RESEARCH OPPORTUNITY IN NEUTRINO OBSERVATORY – ANTARCTICA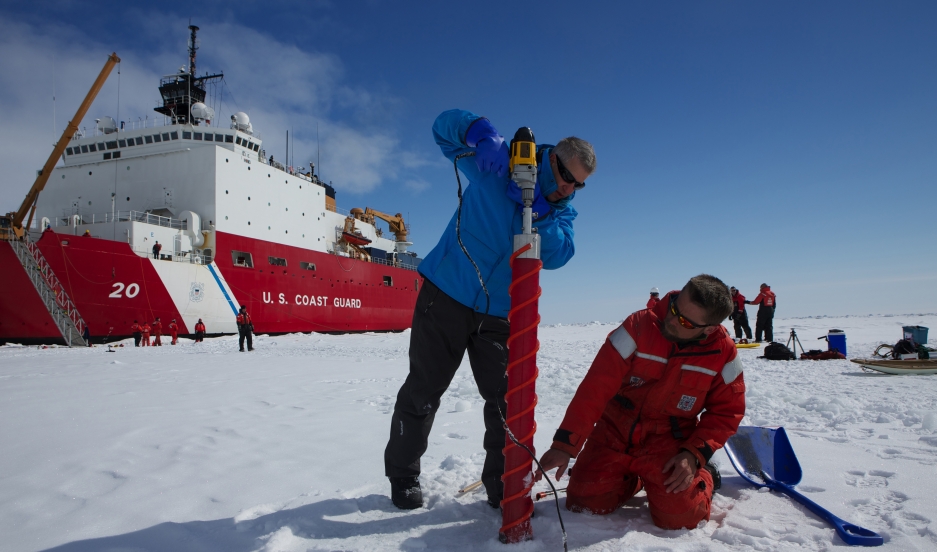 Photo: A. A. S.
We are hiring two "winterovers" who will be deployed to the South Pole, Antarctica for 12 to 13 months to operate and maintain the IceCube Neutrino Observatory. Training for two candidates is anticipated to begin in Madison, WI in August, 2022. Deployment to the South Pole is expected to be in early October, 2022 for 12 to 13 months with no possibility of leaving until the end of deployment. Expertise will be balanced between the two candidates over the range of skills required. Individuals must develop a good working knowledge of the entire system.
The winterovers will be members of a small, isolated community at the South Pole for eight months of the year. Community members participate in a wide range of activities including serving on a fire or trauma team and doing kitchen tasks, general cleaning, and station opening and closing duties. The winterovers will also attend the National Science Foundation (NSF) contractor orientation program and must pass the physical and psychological evaluations to work at polar and high altitude sites for one year, as required by the National Science Foundation (NSF) Office of Polar Programs.
Duties include: operating and maintaining the IceCube detector subsystems; operating and maintaining complex computer data systems at the South Pole; uploading the research data via satellite to the northern hemisphere; analyzing and resolving problems with the detector electronics; providing critical hardware and software support; writing and submitting weekly reports to the collaboration and monthly reports to the National Science Foundation; and participating in Wisconsin IceCube Particle Astrophysics Center outreach activities.
This is an excellent opportunity for someone looking for an exciting, once-in-a-lifetime experience. Previous winterovers have found this to be an exceptionally rewarding and worthwhile position, allowing them to play a leading role in one of the most ambitious science projects in Antarctica. This is also a demanding position, working with a large team of scientists and engineers from a remote location while living at the South Pole. For the right individual this will be an exceptionally rewarding, enjoyable job. More information can be found at https://icecube.wisc.edu
ABOUT THE JOB: Research Cyberinfrastructure Specialist II (RE074)
INSTITUTIONAL STATEMENT ON DIVERSITY
Diversity is a source of strength, creativity, and innovation for UW-Madison. We value the contributions of each person and respect the profound ways their identity, culture, background, experience, status, abilities, and opinion enrich the university community. We commit ourselves to the pursuit of excellence in teaching, research, outreach, and diversity as inextricably linked goals.
The University of Wisconsin-Madison fulfills its public mission by creating a welcoming and inclusive community for people from every background – people who as students, faculty, and staff serve Wisconsin and the world. For more information on diversity and inclusion on campus, please visit: Diversity and Inclusion
EDUCATION
Preferred:
Master's Degree
Master's degree or Ph.D . in engineering, physics, computer science, or IT degree with at least 3 years of professional, job-related work experience
Considered: Bachelor's degree with at least 5 years of professional, job-related experience
QUALIFICATIONS
Required:
Linux/Unix operation systems including configuring core services and network management.
Writing scripts for system diagnostics and/or task automation (e.g. Bash, Python, Perl).
Ability to take initiative (must be a self-starter)
Experience with operational procedures for scientific instruments/industrial equipment.
Excellent communication and organization skills.
Preferred:
Computer systems security methodology and experience with host-based security tools.
High-performing computing hardware maintenance and debugging skills.
Experience with data storage products such as RAID disk arrays.
Understanding of TCP/IP networking.
Ability to use standard laboratory equipment such as oscilloscopes, digital multimeters, etc.
General electronics debugging and repair skills.
Experience working at polar and/or high-altitude sites and remote locations.
COVID-19 VACCINATION REQUIREMENT
UW-Madison employees are required to be fully vaccinated for COVID-19 prior to January 18, 2022 or the first day of employment, whichever comes later. An individual is considered fully vaccinated for COVID-19 two weeks after receiving the single-dose vaccine or two weeks after the second dose in a two-dose vaccination series. Medical or religious accommodations will be considered. Please visit https://covidresponse.wisc.edu for more information.
ADDITIONAL INFORMATION
The University of Wisconsin-Madison is a research institution with an international reputation in physical sciences research and education. The Wisconsin IceCube Particle Astrophysics Center (WIPAC) is a research center in the Office of the Vice Chancellor for Research and Graduate Education with responsibility for the IceCube Neutrino Observatory, a kilometer-scale neutrino detector at the South Pole. The detector consists of more than 5000 optical sensors deployed over one kilometer-deep in the Antarctic ice. A collaboration of scientists from over fifty worldwide research institutions collectively participate in a wide-ranging research program to study highenergy neutrinos to learn about their cosmic sources and fundamental properties. The collaboration uses the IceCube Neutrino Observatory at the National Science Foundation's Amundsen-Scott South Pole Station for this research program. UW-Madison is responsible to the National Science Foundation and the IceCube collaboration for the Maintenance & Operation of the observatory. Details can be found at http://icecube.wisc.edu/.
Along with a team of one additional IceCube Winterover personnel, this position will be responsible for all Winterover operations of this state-of-the-art neutrino observatory. This position is located at the Amundsen-Scott South Pole Station and reports to the Winterover Manager in Madison, WI.
WIPAC is committed to increasing diversity in our field and encourages women and underrepresented populations in particular to apply.
WORK TYPE
Full Time: 100%. This position requires some work to be performed in-person, onsite, at a designated campus work location. Some work may be performed remotely, at an offsite, non-campus work location.
APPOINTMENT TYPE & DURATION
Terminal, 17 month appointment. This position has the possibility to be extended or converted to an ongoing appointment based on need and/or funding
SALARY: Minimum $75,000 ANNUAL (12 months). Depending on Qualifications.
HOW TO APPLY
Please submit a resume and cover letter addressing your qualifications and experiences relating to this position.
CONTACT
Tina Chorlton: [email protected]
Phone: 608-890-0368 Relay Access (WTRS): 7-1-1 (out-of-state: TTY: 800.947.3529, STS: 800.833.7637) and above Phone number (See RELAY_SERVICE for further information)
OFFICIAL TITLE: Research CI Spec II(RE074)
EMPLOYMENT CLASS: Academic Staff-Terminal
JOB NUMBER: 245941-AS
APPLICATIONS OPEN: Dec 3 2021 Central Standard Time
APPLICATIONS CLOSE: Jan 31 2022 11:55 PM Central Standard Time
The University of Wisconsin is an Equal Opportunity and Affirmative Action Employer. We promote excellence through diversity and encourage all qualified individuals to apply.
If you need to request an accommodation because of a disability, you can find information about how to make a request at the following website:  https://employeedisabilities.wisc.edu/disability-accommodation-information-for-applicants/
Employment will require a criminal background check. It will also require you and your references to answer questions regarding sexual violence and sexual harassment.
The University of Wisconsin System will not reveal the identities of applicants who request confidentiality in writing, except that the identity of the successful candidate will be released. See Wis. Stat. sec. 19.36(7).
The Annual Security and Fire Safety Report contains current campus safety and disciplinary policies, crime statistics for the previous 3 calendar years, and on-campus student housing fire safety policies and fire statistics for the previous 3 calendar years. UW-Madison will provide a paper copy upon request; please contact the University of Wisconsin Police Department.