GEORGE SOROS IS THE MOST DANGEROUS MAN IN AMERICA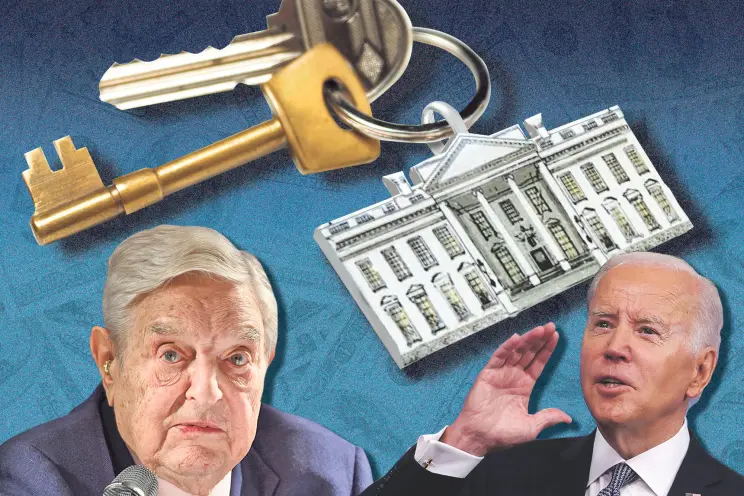 With Joe Biden, George Soros finally had a president he could control
By: Matt Palumbo
Photo: NY Post
George Soros is the most dangerous man in America. The investor is intent on remaking the country to his liberal image, from our foreign-policy priorities to undermining our criminal-justice system. This week, The Post takes a look at the reach of Soros' billions. In this third essay, Matt Palumbo, author of "The Man Behind the Curtain: Inside the Secret Network of George Soros," examines Soros' acolytes in the Biden administration.
At 92 years old, George Soros boasts more influence than ever before in the Oval Office.
Despite dumping millions into US presidential elections before, he has, fortunately for the country, incinerated most of that money into thin air. Soros donated tens of millions to the failed presidential campaigns of John Kerry and Hillary Clinton, and even when he did score a win in Barack Obama, he would later complain that it didn't get him the sort of influence he was looking for.
He "closed the door" on him, Soros told The New York Times. "He made one phone call thanking me for my support, which was meant to last for five minutes, and I engaged him, and he had to spend another three minutes with me, so I dragged it out to eight minutes."
But as I uncovered in my book, "The Man Behind the Curtain: Inside the Secret Network of George Soros," with President Biden, Soros' lackeys are everywhere, and the Soros infiltration of Team Biden began before he even took office.
Biden's transition team was formed after the 2020 election and quickly began staffing itself with liberals connected to Soros and his network.
Biden-assembled "Agency Review Teams," which included lists of individuals "responsible for understanding the operations" of each government agency, were tapped to prepare both Biden and Kamala Harris "to hit the ground running on Day One."
Soros was represented well by Biden's picks, with individuals working for organizations founded by or funded by Soros making up at least 17 of them. This included individuals picked to work on the transition teams of the State Department, Consumer Financial Protection Bureau, United States Mission to the United Nations, Department of Defense, Department of Labor, Department of the Interior, Department of the Treasury, Federal Reserve, Banking and Securities Regulators, National Security Council, Office of the US Trade Representative and Department of Veterans Affairs.
A number of individuals within the Soros sphere of influence then entered Biden's Cabinet:
Neera Tanden served as president for the Soros-funded Center for American Progress (CAP) before becoming senior adviser to the president in May 2021. CAP, which bills itself as a public-policy group pushing liberal viewpoints on economic and social issues, is now headed by Patrick Gaspard, who served previously as President of Soros' Open Society Foundations (OSF). Tanden had previously been nominated to head the Office of Management and Budget but didn't survive the confirmation battle.
White House Chief of Staff Ron Klain serves on the board of the Center for American Progress Action, the lobbying wing of the aforementioned Center for American Progress.
Klain has been pointed to as the man dragging Biden further left and told the Daily Beast that "progressives are a big part of our party, and making sure their voices are heard here at the White House is a big part of my job."
Sam Berger was a former vice president for democracy and government reform at the Center for American Progress and was made director of strategic operations and policy for the COVID-19 Response Team.
Secretary of State Antony Blinken arguably has the strongest connection to Soros. Antony's father, Donald Blinken, and his wife, Vera, funded the Vera and Donald Blinken Open Society Archives at Central European University, which houses a digital collection of Hungarian historical documents. In one Soros Foundations Network report from 2002, Donald Blinken is listed on the Board of Trustees for CEU third after Soros (the chair) and Aryeh Neier, implying he's high in the pecking order.
The daily blog Hungarian Spectrum, which boasts Soros among its donors, celebrated Blinken as a potential secretary of state pick after the 2020 election because "Hungary will not be forgotten in the next four or perhaps eight years in Washington." After Blinken was confirmed as secretary of state, Hungarian newspaper Magyar Nemzet called it "great news for George Soros."
And indeed it was, as one of the first actions Blinken took after assuming his position was to sanction a longtime critic of Soros. In May 2021, Blinken announced sanctions against a former Albanian president and prime minister, Sali Berisha, alleging "significant corruption," and banned him, his wife, and his children from entering the United States.
Soros and Berisha had publicly traded blows before, with Berisha putting him on blast over the years, calling Soros, among others things, a "great gander" he accuses of "mafia acts in Albania." Rep. Lee Zeldin couldn't help but notice that the sanctions came seemingly out of nowhere, and when he grilled Blinken on them, the secretary of state denied having any contact with Soros regarding the sanctions but left the possibility open that "someone" at the State Department could have.
When Zeldin tried to follow up for more information from the State Department, they effectively ghosted him.
While Soros hasn't been in the public lately, his children appear primed to take over his empire and are working overtime.
One son, 37-year-old Alexander Soros, has been his de-facto ambassador to the White House and made at least a half-dozen trips there since Biden took office, while also networking with other Democrats there, the photographic evidence for which Alexander himself posts all over social media.
There's a Soros, or a Soros acolyte, in the ear of President Biden every day.
How Soros spends his money – The main organizations that George Soros uses to further his agenda:
The Open Society Foundations
With an endowment nearing $20 billion, the Open Society Foundations is the vehicle through which George Soros finances his entire empire. Acting as asort of philanthropic conglomerate, the OSF spends billions on grants financing left-wing narratives and policies on economics, education, equality, health care, journalism and justice reform. Oftentimes an individual group is set up for a particular cause — like setting up a "Justice and Public Safety Political Action Committee" in one state to fund races for district attorney — and funded through this umbrella group. Soros has funneled $32 billion of his own fortune into the OSF. The current endowment of the OSF rivals its cumulative spending since inception, indicating that it is well positioned to outlive Soros.
Center for American Progress
Influential public-policy think tank founded by John Podesta in 2003 to rival the likes of the more conservative Heritage Foundation, and has strong ties to the Democratic Party. Soros has funded the CAP with at least $3 million over the years, and Patrick Gaspard, previously the president of the OSF from 2017-2020, became president of CAP in June 2021. Politico described CAP as the "most influential think tank of the Biden era."
Central European University
University started in Hungary by George Soros in 1991, to push a liberal agenda on the former Soviet Bloc after the fall of the wall. Members of the board of trustees include his son Robert Soros and numerous individuals also in leadership positions in the OSF. Among the school's graduates include the former president of Georgia Giorgi Margvelashvili, the former Georgian minister of defense, former Croatian minister of justice and multiple members of European Parliament. Soros has donated over $400 million to higher education over the years, with 75% of it going to just two schools: Bard College in New York state and CEU.