Croatia's top diplomat Miro Kovac is his country's first government minister to visit Israel since Croatia won accession to the EU in 2013. Croatian Foreign Minister Miro Kovac unequivocally denied on Monday that anti-Semitism, racism and extremism are prevalent in his country. In an exclusive interview with The Jerusalem Post, Kovac – who is his country's first government minister to visit Israel since Croatia joined the European Union in 2013 – said: "I strongly reject any perception of anti-Semitism. It is simply wrong. It is not true."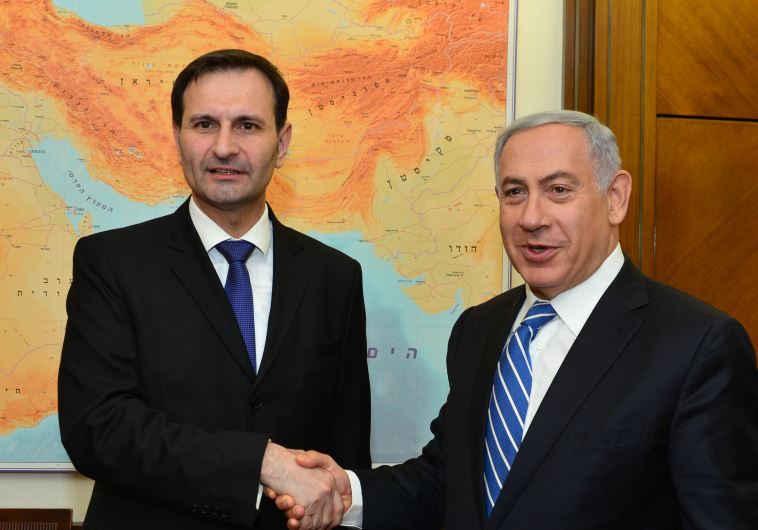 Croatia's top diplomat Miro Kovac is his country's first government minister to visit Israel since Croatia won accession to the EU in 2013. Croatian Foreign Minister Miro Kovac unequivocally denied on Monday that anti-Semitism, racism and extremism are prevalent in his country. In an exclusive interview with The Jerusalem Post, Kovac – who is his country's first government minister to visit Israel since Croatia joined the European Union in 2013 – said: "I strongly reject any perception of anti-Semitism. It is simply wrong. It is not true."
Croatian FM to 'Post': No anti-Semitism, racism, extremism in my country
Photo: KOBI GIDEON / GPO
He claimed that as far as tolerance and protection of minorities are concerned, "Croatia is a role model" with a constitution whose preamble condemns fascism and guarantees protection for minorities.
When there are instances of racism, anti-Semitism and extremism, he said, "It is up to us to denounce it. That kind of behavior is not compatible with our values as defined by the constitution."
Asked about a recent soccer match between Croatia and Israel during which spectators made anti-Semitic remarks and yelled pro-Ustashe slogans in the presence of Croatian Prime Minister Tihomir Oreskovic, who remained silent on the issue, Kovac admitted that he would have preferred a clear, on the spot reaction.
He had not been at the match himself, he said, but had he attended, he certainly would have spoken up.Kovacs also said that Croatia was strongly opposed to boycotts and rejects the isolation of Israel. There was, he said, no public support for a BDS movement in Croatia.
Kovac said that when his party was in the opposition, it enjoyed strong cooperation with Israel, and now that it is in government it is keen to upgrade that cooperation in areas of agriculture, water management, tourism, cyber and high tech.
There is already excellent cooperation in areas of defense, security and intelligence, he said. There is a very good foundation for a stronger relationship, he added, but it has to be "more concrete and have more substance," than having Croatian basketball players on Israeli teams.
The two countries can cooperate more politically, said Kovac, noting that the Croatian government "understands Israel's position in the Middle East quite well. We have a lot of sensitivity to your sensitivities," he said.
From a political perspective, Kovacs stressed the importance of high level exchange visits.
Croatian President Kalinda Granbar Kitarovic visited Israel last year, and Croatia would now like to see a reciprocal visit by President Reuven Rivlin plus a visit by Prime Minister Benjamin Netanyahu.
Croatia gained independence from the Federal Socialist Republic of Yugoslavia in 1991, and set about establishing a free, independent democratic, multi-party state based on the rule of law, gender equality, equality for all minorities, and rejection of fascism, Nazism and Communism. It established full diplomatic relations with Israel in 1997.
Croatia joined NATO in 2009, and joined the EU four years later. The European Central Bank expects Croatia to adopt the euro in 2019.
On the issue of resolving the Israeli-Palestinian conflict, Kovac said no solution can be imposed on the two parties, and that they have to sit together and find a solution that includes security for Israel and peace for the Palestinians.
At a breakfast hosted by the Israel Council on Foreign Relations (ICFR), Kovac was asked by Colette Avital, who chairs the Center of Organizations of Holocaust Survivors, about compensation for private and community property seized from Jews. Kovac initially said the property had been confiscated first by the Ustashe and then by the Communists but then suggested the creation of a foundation – to be jointly administered by Croatia, the United States and Israel – to work in consultation with Croatia's Ministry of Public Administration and Ministry of Justice to resolve the issue of property restitution.